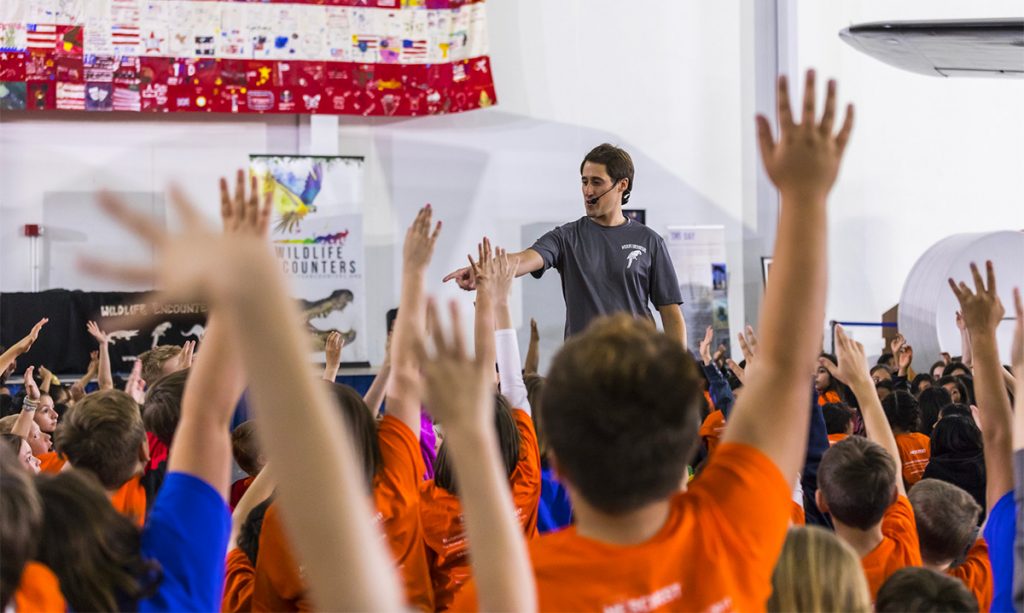 From April 5-28, Nebraskans celebrated once again, a statewide science festival.
The 2019 Nebraska Science Festival topped more than 41,000 attendees — 11,000 more than last year — who participated in a wide range of activities that stretched from Omaha to Scottsbluff and communities in between.
During this time, students launched high altitude balloons, took nature hikes, walked through an inflatable colon, learned about women in science, read Science, Technology, Engineering and Math (STEM) stories, and took part in planetarium and animal shows.
Adults learned the science of bourbon while handling bugs, heard from women in STEM and Art and Design careers, engaged with keynote speaker Grant Imahara, electronics and robots expert from Discovery Channel's Mythbusters and participated in hands-on science activities alongside family and friends.
This year's 120 plus festival events engaged Nebraskans at 78 participating sites – 11more than last year – across the state, and in communities including Omaha, Lincoln, Kearney, Hastings, Valentine, Sidney and Ogallala.
"We're thrilled to have had so many residents throughout Nebraska now, engage in science activities, once again making for a truly statewide celebration of science," said SciFest Coordinator Kacie Baum. "We appreciate the enthusiasm of all of our attendees, volunteers, participating sites and exhibitors who share their love of science and hands-on learning."
Among the new activities this year: tours of the Kregel Windmill Factory Museum in Nebraska City, Bugs & Bourbon at Mercury Omaha, Free First Friday at the Hastings Museum, "This Blessed Earth" book club at the Kearney Library, and "Woman in Science: Lunch and Learn with Egyptologist Kara Cooney."
The Nebraska Science Festival began in 2013 as an initiative of the University of Nebraska Medical Center, which continues to administer the festival with the assistance of a number of organizations and individuals interested in the advancement of science literacy.
The Science Festival is designed to make science accessible, interactive, relevant and fun for kids and adults alike. In addition to UNMC, other 2019 sponsors included the Nebraska Coalition for Lifesaving Cures, Metro Credit Union, Streck and media sponsors KETV and the Omaha World-Herald.
Planning already is underway for the 2020 Festival, which will run April 3-26.