13th annual Richard B. Davis, MD, PhD, History of Medicine Lectureship
April 22, 2022 @ 12:00 pm

-

1:00 pm

Free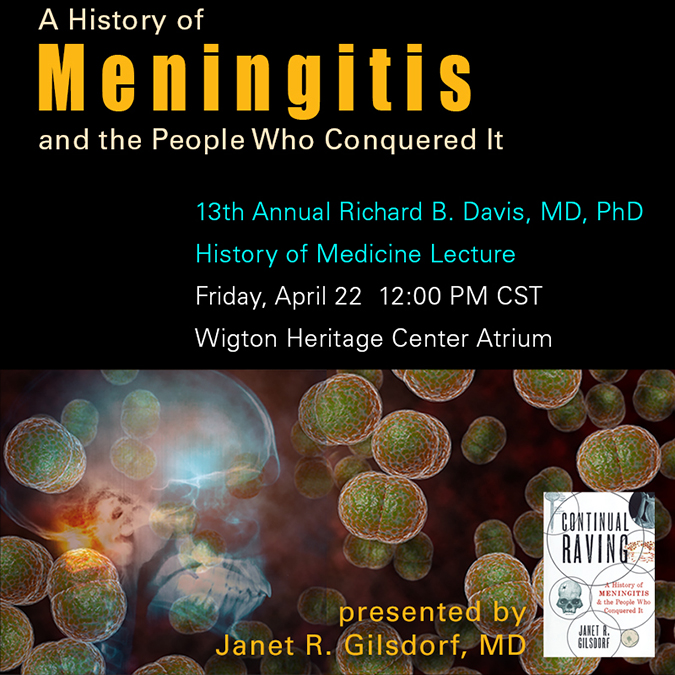 Dr. Janet Gilsdorf will share stories based on her book, Continual Raving: A History of Meningitis and the People Who Conquered It, of how scientists across the 19th and 20th centuries defeated the deadly brain infection meningitis — not through flawless research, but through a series of serendipitous events, misplaced assumptions, and flawed conclusions. The result shows not just how a disease is vanquished, but how scientific accomplishment can sometimes occur where it is least expected.
 Registration for Zoom is required.
Dr. Gilsdorf, an alum of the University of Nebraska Medical Center College of Medicine, is the Robert P. Kelch Research Professor Emerita in the Department of Pediatrics at the University of Michigan and an infectious diseases physician at C. S. Mott Children's Hospital in Ann Arbor, Michigan, where she participates in the diagnosis and management of pediatric patients with complex infectious diseases, and in the clinical training of medical students, pediatric residents, and pediatric infectious diseases fellows. She has published over 100 articles of original research, most centering around the epidemiology, molecular characteristics, and pathogenesis of Haemophilus influenzae. She is a past president of the Pediatric Infectious Diseases Society (PIDS) and received the PIDS Distinguished Physician award in 2012. In addition to her scientific writing, she is the author of Inside/Outside: A Physician's Journey with Breast Cancer (U of Michigan Press), Ten Days (a novel from Kensington Books), and Continual Raving: The History of Meningitis And The People Who Conquered It (Oxford University Press).  She has published several personal essays in the Journal of the American Medical Association (JAMA) Emerging Infectious Diseases, Health Affairs, and The Examined Life. In 1999 she was awarded the Journal of Internal Medicine Award for Prose.
The Richard B. Davis, MD, PhD, History of Medicine Lectureship brings national experts to the UNMC campus to discuss the history of medicine, in support of special collections at the McGoogan Library, including rare books and works on the history of medicine. The lectureship is supported through an endowed fund given by the late Richard B. Davis, MD, PhD (1926-2010), faculty member at UNMC from 1969-1994 and professor emeritus of internal medicine at UNMC. Dr. Davis and his wife, Jean, provided support for this lectureship out of his long-standing interest in the history of medicine.