Denham Harman, MD, PhD Biomedical and Gerontology Lectureship
April 7 @ 12:00 pm

-

1:00 pm

Free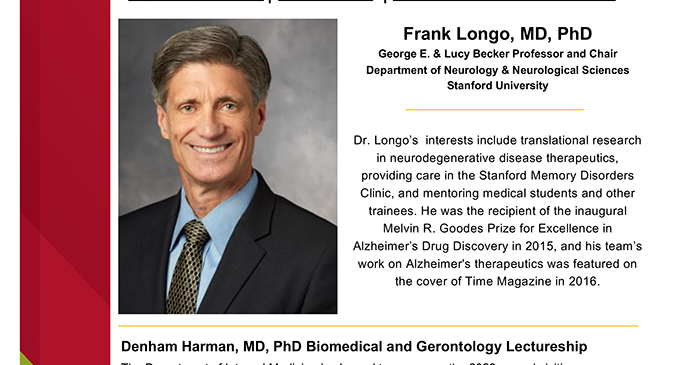 The Department of Internal Medicine at the University of Nebraska Medical Center is pleased to announce the 2023 annual visiting professorship named for the internationally-known scientist, Denham Harman, MD, PhD. Dr. Harman's research on aging was based on the theory that free radicals, highly reactive molecules freed in the normal chemical process of living, cause aging and disease through their destructive actions in cells and tissues. Joining UNMC faculty in 1958, his work done at UNMC established the role of antioxidants in cancer and heart disease. Dr. Harman's research led to international recognition and awards. Dr. Harman was named chair of the section of gerontology and geriatrics UNMC when it was established in 1973, the first of any American medical school, and continued his research as professor emeritus, internal medicine, at UNMC until 2010.
This years lecture "Synaptic Resilience and Translation to an Alzheimer's Disease Therapy" will be given by Frank Longo, MD, PhD., the George E. & Lucy Becker Professor and Chair in the department of Neurology & Neurological Sciences at Stanford University.
Dr. Longo's  interests include translational research in neurodegenerative disease therapeutics, providing care in the Stanford Memory Disorders Clinic, and mentoring medical students and other trainees. He was the recipient of the inaugural Melvin R. Goodes Prize for Excellence in Alzheimer's Drug Discovery in 2015, and his team's work on Alzheimer's therapeutics was featured on the cover of Time Magazine in 2016.
This free event is live in person or available via zoom (password 581835 ).