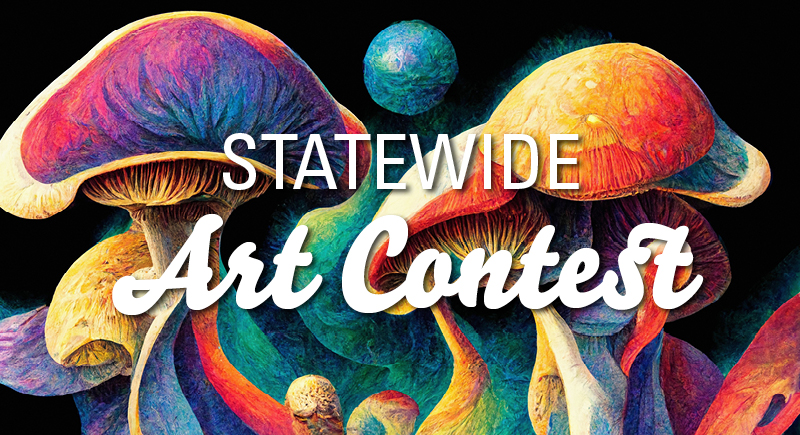 Using fungi as inspiration, create artwork that reflects this unique organism and be entered to win an NE SciFest swag package.
Prize
Three winners will receive a swag bag of NE SciFest goodies.
REQUIREMENTS
All entries must meet the following requirements:
All entrants must live in the state of Nebraska
Each participant may only submit one image. However, a teacher/coach/parent may submit multiple images
Must be able to email a clear, well photographed image of creation to NE SciFest
Submit Image
Submit your creation to nescifest@gmail.com.
Please include the following in your email:
Name
Address
Age
School (if applicable)
Fungi Artwork Title (if applicable)
HOW THEY'LL BE JUDGED
Each submission will be judged no matter the medium used, or the age of the entrant, as one collective.
Submission materials will not be returned and will become the property of the Nebraska Science Festival. Please retain a copy for your records. Unfortunately, due to the volume of submissions, it is impossible to give individual critiques to participants.
Images will be judged on creativity, skill, and just overall enjoyment. To ensure an impartial selection process, the judges will not see entrant names. Images must be postmarked by April 30.
FULL CONTEST RULES:
All entrants must live in the state of Nebraska.
Image must be postmarked no later than April 30, 2023.
Image must be solely the work of the entrant. Plagiarism will result in disqualification. Images must not infringe on any third party rights or intellectual property of any person, company, or organization. By submitting an image to this Contest, the entrant agrees to indemnify the Nebraska Science Festival for any claim, demand, judgment, or other allegation arising from possible violation of someone's trademark, copyright, or other legally protected interest in any way in the entrant's essay.
Decisions of the judges are final. Families of the festival advisory board of directors are not eligible for this contest.
All entries become the property of the Nebraska Science Festival and will not be returned.
The Nebraska Science Festival is not responsible if entries do not get to us (ie- lost in the mail, etc.)
Winners and all other participants will be notified via e-mail by May 13, 2023.
Winners are responsible to provide their mailing addresses and other necessary information under the law in order to receive any prizes. Contest winners agree to allow the Nebraska Science Festival to post their names on any of the festivals affiliated websites and press materials. The winning essays may be posted in their entirety on any of these websites with full credit given to the author. Winners will be solely responsible for any federal, state or local taxes.